Concept

森羅万象 / Everything Natural
For Japanese people,
nature is a special existence to be respected insofar as it is more than a simple environment.
Now, with the economy and civilization at the center of our lives, once again,
by realigning ourselves with trees and rocks, soil and water, wind and sunlight,
we can realign ourselves with a "new life."
自然、それは私たち日本人にとって、
単なる環境である以上に敬い尊ぶ特別な存在でした。
経済や文明が生活の中心となった現在。
あらためて木や石、土や水、風、陽の光と向き合うことで、
私たち自身、これからの「生活」と向き合います。
Human beings are not beyond nature,
but rather, by realizing we are simply part of nature,
we can think of and realize a new future.
人間は自然を超えた存在ではありません。
自然の一部である事を意識することにこそ、
新しい未来があると考えます。
---
NI-WA
Home flower beds, community flower beds, balcony flower beds, and community gardens.
We want to make NIWA, or a garden, with which to live,
exceeding the conventions of such "architecture gardens,"
allowing for one to spend time with the bounties of nature,
and the joy of bathing in the sun light,
and we aim to provide a new way of work, a new way of fun, and a new way of life,
that link our inside lives with the outdoors,
and this comes from days enveloped in the smell of grass and trees.
Bringing the new culture of "NI-WA,"
A CULTURE OF COMBINING NATURAL WITH NORMAL.
住宅の庭、花壇、坪庭、庭園。
そういった観賞を目的とした「造園」された庭を超え、生活とともにある「庭」を創りたい。
緑とともに時を過ごす豊かさ。陽の光を浴びるしあわせ。
豊かな草木の薫りに包まれる日々だから生まれる
ソトとウチがつながる、新しい働き方、遊び方、暮らし方。
私たちは提案します。「NI-WA」という新しいブンカを。
ソトとウチをつなぐ緑、というブンカを。
From planning a garden, to planning a way of life.
A new culture.
「庭造り」から「NI-WA創り」へ。
新しいブンカを創ります。
---

An office you actually can't wait to get to in the morning.
A house having that weekend lunch you can't wait to have.
A roof with a feeling better than any floor.
With a hotel so nice it makes you want to take a trip just to stay for one night.
A street you love more with every step.
Creative days begin, on a green platform,
with NI-WA, a culture that is fresh and filled with happiness.
朝の目覚めとともに、早く行きたいオフィス。
心地の良い休日の昼食が待ち遠しい、共に暮らす家。
どのフロアよりも気分のあがる屋上。
ただ一晩を過ごすためだけに旅に出たくなるホテル。
歩く度にこの街が愛おしくなる道。
しあわせに満ちあふれた、
みずみずしいブンカ=NI-WAを舞台に
創造的な日々がはじまります。
---
Three policies of NI-WA
NI-WA's unique "culture" is made through three basis policies.
NI-WA 3つのポリシー
NI-WAは3つのポリシーを通してNI-WA独自の「ブンカ」を創ります。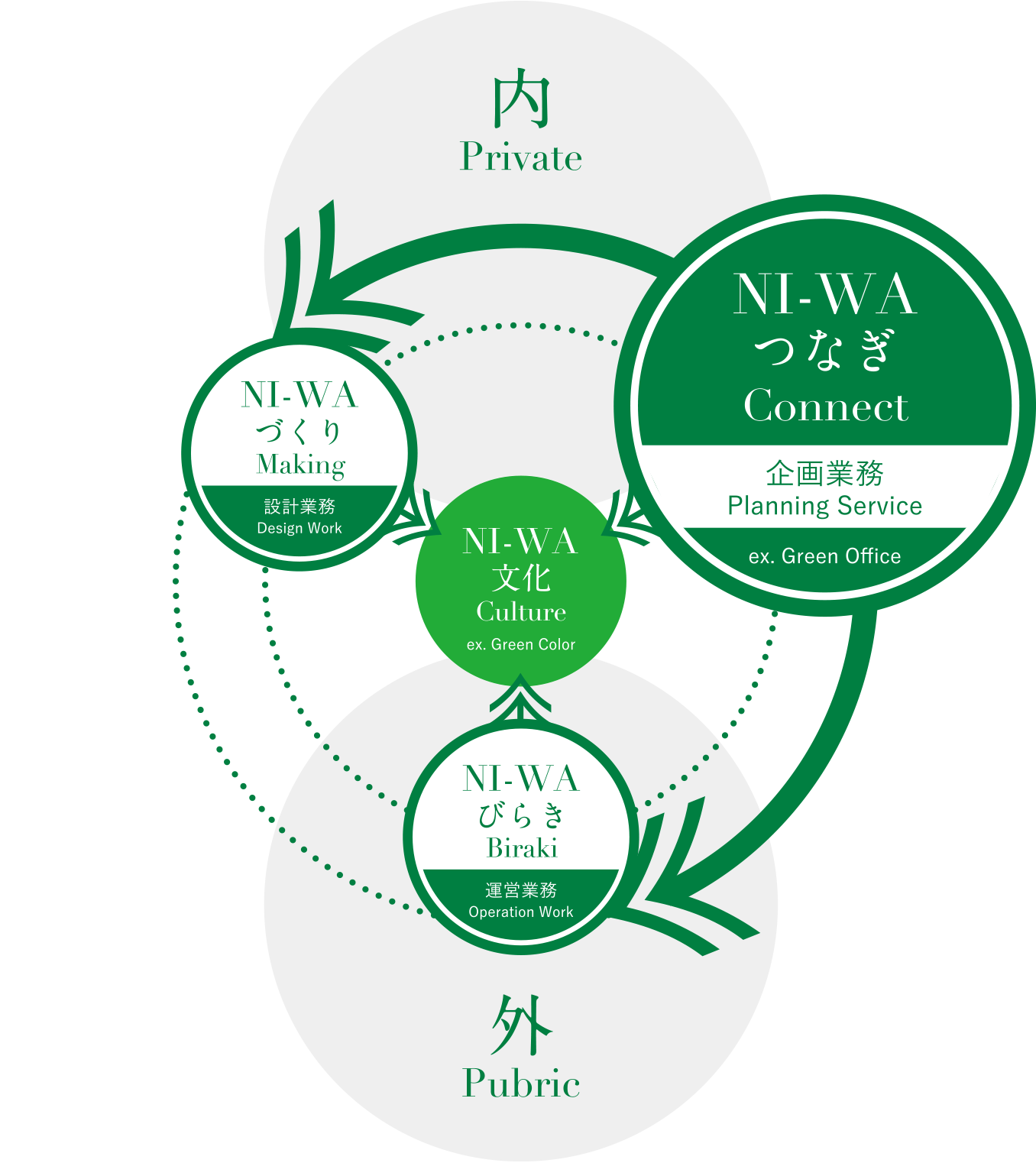 Policies that connect NI-WA
NI-WA つなぎのポリシー
We look for all connections between the indoors and the outdoors,
and create that special moment where you can spend time with the most bountiful nature as possible.
In order to do so, we get involved from a blank canvas,
and with the question of how should time with nature be spent being our guiding principle,
we start our plans from this.
私たちは、あらゆるウチとソトのつなぎ目を探求し、
もっとも豊かな、緑とともに過ごすひとときを構築します。
そのために、全く白紙の状態からプロジェクトに参画します。
緑とともに過ごすひとときが、どうあるべきかという視点を
プロジェクトの原点として企画します。
Policies of making NI-WA
NI-WA づくりのポリシー
Making use of the techniques of TOHO-LEO,
this company having the experience of building gardens for over 35 years,
we produce the nature with which you can spend the most meaningful days.
In doing so, of course, durability and operability, of course, as well as beauty, must be provided.
Beautiful days that appear by spending time with nature in and of itself.
Making NI-WA preceding the aesthetic tastes of Japanese people.
私たちは、35年を超える緑化実績をもった東邦レオの技術を駆使し、
もっとも豊かな日々をともに過ごすための緑を生み出します。
そこには、耐久性や運用性はもちろん、美しさを欠かすことはできません。
あるだけで美しい緑、ともに過ごすことで現れる美しい日々。
日本人の美意識の先にあるNI-WAをつくります。
Policies on Initiating NI-WA
NI-WA びらきのポリシー
The time spent with nature as it should be, as we've created it,
is expressed as that perfect moment to spend with nature, at its most plentiful.
At times, meals that would satisfy a lifetime are prepared,
at times, events where you can lose yourself in the beautiful music are prepared,
and all such perfect moments are completely handled and delivered.
私たちが構築したあるべき緑との過ごし方を、
もっとも豊かな、緑とともに過ごすひとときとして実現します。
時には、幸せに満たされるような食事を準備し、
時には、心地よい音楽に酔いしれるような催しを準備し、
そのひとときのすべてを、完全に運営します。
Contact